Hole in the Wall, 3/19/00
South By Southwest Closes With a Bang and a Hoot

This year's South By Southwest Music Festival was just a train wreck waiting to happen, literally. As the festival came to a close at the Gallery Lombardi Lounge (in the former Electric Lounge location), a hapless motorist got his truck stuck on the railroad tracks that were just a few feet away from the venue. Moments later, the 2 a.m. train plowed through, causing a big bang and slicing the truck in two. Luckily, no one was injured, but it definitely made for a dramatic finish to a week's worth of bands, parties, late nights, and schmoozing.
But there was still one event left to top off the festivities: a Bee-Gees Hoot Night at the Hole in the Wall on the Drag. If you are not familiar with the venue, let's just say there is no irony in the name. It's a smoky little place across from UT, but has been the home of great live music for years, launching the careers of national recording artists Fastball and playing host to dozens of music legends including Jimmie Dale Gilmore and Joe Ely. The Free For All, hosted by local musician and man-about-town Paul Minor, has been an Austin institution for more than five years, offering a free live music showcase every Sunday night, featuring Minor's band Superego and other Austin favorites. This special Sunday showcase had local musicians and special guests playing Bee-Gees tunes and other disco classics. Minor himself got into the spirit of the '70s by sporting a cheesy new mustache, leather vest, and shirt open to the navel that would have won him an audition with the Village People. The Hole's disco ball, typically reserved for special ambiance, rotated all night long, speckling the room with the shimmer of a glitzier time. While some of Austin's notable rockers were noticeably uncomfortable with the disco format (Grand Champeen's best attempts were the Stones' "Miss You" and Blondie's "Heart of Glass") others were surprisingly at home pumping out those disco beats. Trish Murphy, who just won Best Female Vocalist at Wednesday's Austin Music Awards, along with brother Darin Murphy played cool renditions of the Bee-Gees' "Love So Right," "Nights on Broadway," and "Jive Talkin'," with Darin displaying a perfect falsetto. The Golden Arm Trio with violins and stand up bass offered symphonic strains to "A 5th of Beethoven," "Staying Alive," and Parliament's "Flashlight." Between acts, Graham Reynolds tickled the ivories on the keyboard, entertaining the crowd with "Macho Man" and "Stayin' Alive," all tunes that he picked up from a '70s hits songbook that was plopped in front of him at the start of the show.
Special guests included a great Brit pop group from the UK, Departure Lounge, representing early Bee-Gees tunes "New York Mining Disaster " and "Words". Austin group, Lil' Cap'n Travis, contributed "How Deep is Your Love" and a rockin' version of Anita Ward's "Ring My Bell." Miles Zuniga of Fastball jumped onstage as Miles Magnifico, joined by Jon Sanchez (Superego, Troy Young Campbell, Ginger Mackenzie), George Reiff, and Darin Murphy, and played up another "Miss You" cover and a rousing Bee-Gees' "To Love Somebody."
Other local artist to perform included Britt Daniel of Spoon with mellow, acoustic solos of "How Can You Mend a Broken Heart" and "I Started a Joke" and Jon Sanchez's slightly bizarre, not quite disco, original tune, "Acuff-Rose Skeleton," a parody of early Nashville trucker tragedy songs. The night ended with members of Minor's cover band, The Argyles, rocking the house with "Play That Funky Music," a KC and the Sunshine Band medley, "Super Freak," and finally, when they were all out of disco, they closed the joint down with "Magic Carpet Ride"and a freaky, demented "Funkytown." The reserved Austin music crowd, typically seen bobbing heads at live music shows, ended up dancing on the tables and screaming for more as Minor pleaded with people to go home. So, just as the decadence of the '70s gave way to the commercialization of the '80s, South BySouthwest 2000 became another blurred memory. But for a few short hours at Hole in the Wall, Austin partied like it was 1979.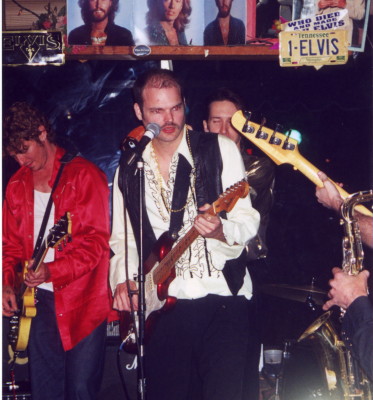 On That Note, I'm outta here......
C