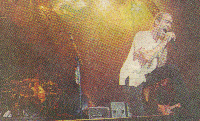 Live, Woodlands Pavillion, September22, 1997

Far be it from me to let something like a little monsoon keep me from a concert, anoutdoor one at that. Last night which happened to present the worst weather Houston hashad all summer, Live played the Woodlands Pavillion. Out of seven tickets, only one friendwas brave enough to don the raingear and proceed to our lawn standing location. I wouldn'thave missed it for anything. We arrived just as Luscious Jackson was finishing the set, aband that I would have liked to have seen under better circumstances. We only had to waita short while before Live was ready to take the stage. They opened with Rattlesnake andproceeded to entertain us with selections from their most recent Secret Samadhi and theirlast Throwing Copper. Of note were a couple of Throwing Copper songs that I hadn'texpected given their ever growing body of material, including White Discussion, Iris, andWaitress. Missing was my absolute favorite Live song Top. Also missing to mydisappointment were several favorites from their first CD Mental Jewelry, Beauty of Grayand Pain Lies on the Riverside. The only MJ song played was Operation Spirit.
The show was full of energy. The set was amazing with this large structure that lookedlike a cross between the "golden arches" and some pieces from an enormouserector set. Lead singer, Ed Kowalczyk, gyrated and danced as intense lightingcomplimented his every movement. He seemed very happy in a relaxed sense, probably due tothe fact that their summer tour was winding down and they had accomplished the nearimpossible in the music industry: following up one monster hit CD with another. He writhedand moved spiritually at times, with first his black jacket and later his white shirtcoming off. Their sound was perfect, Ed's voice rang clear on the beautiful "Turn MyHead" and raucous on "Freaks". Lead guitarist, Chad Taylor, lends apowerful sound and stage presence with unique riffs and energetic movements. Live offersboth hard and soft edges often within the same songs, as is the case in Iris. There waslittle banter or discussion, but none was necessary as the music was the message lastevening.
Of course, there were the obligatory teenagers that were less interested in the musicand more interested in the show as an opportunity to fling themselves down a mud coveredhill. Despite the rain, the crowd that showed up was treated to an excellent show. Live'sdevelopment over the years proves their ability to grow and change their music, deliveringa sound that has a popular appeal while maintaining strong artistic integrity. Ending upthe show with some of the more popular tunes, Lightning Crashes and I Alone, Live left therain-soaked crowd yelling for more.
This was the fourth time I've seen Live, each time in larger venues, and they keepgetting better and better. I just hope I won't have to wait 2 years before they comearound again.
On That Note, I'm outta here......
C