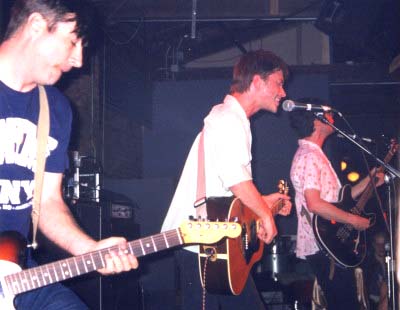 Late Night with Conan O'Brien has a recurring skit called "If They Mated" in which otherwise unrelated celebrities are grossly morphed in a high tech illustration of a potential offspring. To stretch the concept to its musical equivalent, if Paul McCartney and Dolly Parton had a love child who grew up on Elvis Costello music, he'd look like an Old 97. The Dallas quartet, playing Antone's Friday, March 3 to a packed house, bestowed their inventive brand of country-infused pop with punk-influenced velocity.
The Old 97's are a treat for the senses. If you turned down the vocals and just listened to the music, you'd be smack dab in the middle of a regular Texas hootenanny. Turn up the vocals and you have some of the cleverest lyrics delivered in Euro pop stylings. But, turning off the sound completely and simply watching the energy emanating from these guys, you might think you were taking in a Clash gig. The combined result is artful and unforced. Reminiscent of everything (including the Kitchens of Distinction), you can hear strains of 80/90s alt pop like Material Issue, the Alarm, the Cure and Social Distortion, Brit pop influences from the Beatles to Belle and Sebastian, bluegrass classics and hard core country. Old 97's smoothly transition between genres as if there were only one: good music.
Rhett Miller, lead singer and rhythm guitarist, pens most of the songs, his lyrics full of angst and heartache, but somehow he always leaves you with a twinge of hope. Their most recent project is Fight Songs, released on Elektra in April 1999, but their live show reflects selections spanning their entire career. From their first release in 1994, Hitchhike to Rhome, "Drowning in the Days," brought the comment from Miller "we were drinking a lot when we started the band". From 1995, Wreck Your Life was represented by "Victoria" and "The Other Shoe". And from their first Elektra release in 1997, Too Far to Care, "Four Leaf Clover" made the set. Opening the show with "Lonely Holiday", Old 97's instantly introduce you to their myriad of influences and their ability to contrast dark themes within happy melodies ("I've thought so much about suicide, parts of me have already died"). There are the traveling songs "Broadway" and "Busted Afternoon." There are the lovelorn sagas, "I'll Stomp a Mudhole in Your Heart" and "Valentine." And then there is the hard core Old 97's fan anthem, "Wish The Worst." Yes, their sound has evolved over the years, with Fight Songs heavier on the pop side than the alt country, but in concert, the material flows naturally, like it's all part of a grand scheme.
Tight musicianship and high energy made up for the lack of between song banter. Rhett Miller is a charming front man with vocals that are both lilting and rugged. Bassist Murry Hammond takes up lead vocals on a few songs to mix it up. Lead guitarist Ken Bethea delivers the powerful licks that define the Old 97's sound, and drummer Philip Peeples provides the back beat that holds it all together. Miller and Hammond offer spectacular harmony, particularly on the Bill Monroe bluegrass number "My Sweet Blue-eyed Darlin'." Never far from their roots, they sing about what they know, like the peppy "West Texas Teardrops." And like the good country boys that they are, they threw in an homage to Merle Haggard with the classic "Mama Tried." "Murder (Or a Heart Attack)," the radio hit from last summer, is pure jangly pop with a hook you'll be humming all day. They closed with the hyperactive "Timebomb." While their following at Antone's reflected a heavy frat boy demographic, their music is really accessible to a larger audience, a little something for everyone.
Old 97's will appear on The Late Show with David Letterman on Tuesday, March 7, when fan, Janeane Garofolo guest hosts. Plans are to head into the studio this summer. If all goes well, the band hopes to record in Austin at Willie Nelson's Pedernales Studio.
On That Note, I'm outta here......
C