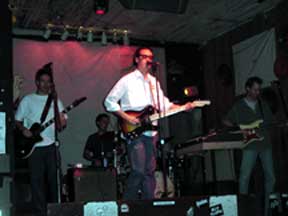 The Conrads
Black Cat Lounge, November 22, 2000
The Conrads are the featured act at the Black Cat Lounge on Sixth Street every Wednesday night. If you haven't been to the Black Cat, it's a low maintenance-type place that is pretty much an alley with a tin roof. But the stripped down atmosphere leaves everything to the bands, no one is here because of the martinis or the meat market appeal. It's for the music. The Conrads are a great high-energy rock-a-billy quartet. Made up of musicians from the Austin-Houston corridor, this group is just as comfortable with Western swing as they are with a samba ballad. And lead singer David Beebe is a Buddy Holly look-a-like, which makes this all the more a straight-up Texas music experience.
on that note....
Band Links
No Web site to speak of, but if you know of one, let me know!