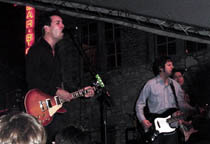 Fastball
Stubbs, October 28, 2000
When hometown boys come back to Austin after making it big, you would think that they'd draw a big crowd. Not so when Fastball returned to play a show at Stubbs on Oct. 28th. About 600 showed up to check out the local boys and the new material from their CD Harsh Light of Day, the followup to the ridiculously successful 1998's All the Pain Money Can Buy.
Fastball opened with a new tune, a Miles Zuniga number called "This is Not My Life," and proceeded to offer other tunes from the new CD like the single "You're an Ocean" and "Love is Expensive and Free." Of course, older tunes, like "The Way" "Out of My Head" and "Fire Escape" were present, but I think the Austin crowd could have used some old-school Fastball, stuff from their first CD Make Your Momma Proud.
As per the usual Fastball show, there was great musicianship and good, catchy songs, but little on the entertainment side. This group definitely has an image problem (no focal point) and does little to create a personality on stage. But if you like their songs (and I do), you will enjoy an evening of Fastball sing-a-long with your friends. Highlights included an acoustic/bongo version of "The Way" and a Bowie cover of "Life on Mars" as the show's closer.
No longer a trio, Fastball has added two new permanent members, a guitarist (Brad Hernquist, from New Radicals) and keyboard player (Kevin Lovejoy from Austin). Perhaps the new members have taken away from the pure, stripped down feeling they had as a trio. I really hope they do well with their new CD, but out of the gate, the single "You're An Ocean" hasn't made too many waves in radio markets around the U.S.
on that note....
Band Links