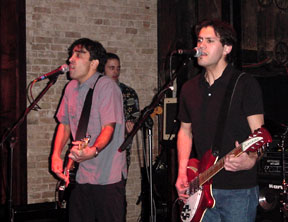 Halloway
Speakeasy, February 20, 2001

Some of Austin's best musicians have gotten together to form a new pop/rock ensemble. Representing the Recliners (Neal Mehta, Brent Chappelle), Ron Flynt and the Blue Hearts (Paul Leddy) and the New Bohemians (John Bush), Halloway blends influences from the 70s-90s, like U2, Tom Petty, and the Rolling Stones, with contemporary harmonies and guitar licks.
Mehta and Leddy share the songwriting responsibilities, with Mehta as primary lead singer and Leddy on lead guitar. Mehta, having performed kitschy lounge covers with the Recliners for years, comes into his own with original material that shoots straight and comes from the heart.
Check them out at an upcoming gig at Speakeasy or other Austin venues.
on that note....
Band Links