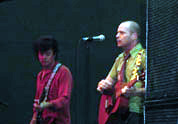 Tragically Hip
Stubbs, October 14, 2000
The Tragically Hip is a band I should have seen a long time ago. After all, they are the biggest band in Canada. I just never got around to getting to a show for one reason or another. Now that I have seen them, I can't really understand the hype. This Toronto group is definitely high-energy rock, but doesn't pack the punch of many of the American rock groups that are circling the country like Matchbox 20 or Vertical Horizon, and they certainly don't offer the all-around entertainment that fellow Canadians Barenaked Ladies offers.
Music@Work 2000, shows a more folksy side, with lead singer, Gord Sinclair, grabbing an acoustic guitar for several songs, thus reducing the energy that the frontman typically exhibits in concert, as I am told by longtime fans. Still, the new album offers rocking tunes like "Tiger the Lion." Although I'm not a big fan, I did recognize the tunes "Twist My Arm" and "That's What I'm Here For" during the set.
One nice surprise was the addition of a couple of new performers, Kate Fenner on vocals and Chris Brown on keyboards. Chris played with Barenaked Ladies when Kevin Hearn was out receiving treatment for Leukemia (Kevin's doing great now).
Chris and Kate have their own group, Brown and Fenner, and they are definitely worth checking out. They opened for The Hip on a few gigs and were asked to stick around. Their music is a nice vibe for listening to on a Sunday morning or when one is feeling particularly instrospective.
on that note....
Band Links
The Tragically Hip Official Site