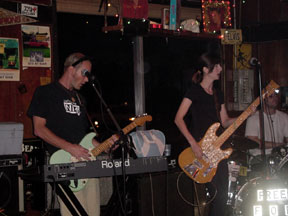 The Playthings
Hole in the Wall, October 29, 2000
The Playthings rock, it's that simple. Don't whine about noisy, punk bands that are '70s throwbacks, the Playthings have an up-to-date sound that is tight and fun. Their songs cover tough issues like cats losing their virginity and the phenom that is Paulina Poriskova (accomplishing my favorite rhyme with Champagne Supernova). They have odd stops and crazy vocals at times, but it all makes for an experience that is uniquely playful and entertaining.
Tim Brown, Jenny Hart, Kenny Gall and Matt Patterson make up the group, with the majority having been transplanted from the Lawrence, Kansas vicinity. Dorothy's loss is our gain in Austin, TX!
on that note....
Band Links