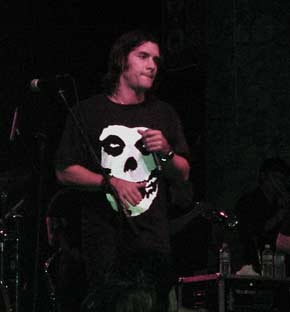 The Scabs
Stubbs, October 27, 2000
What can be said about The Scabs that hasn't been said already? Bob Schneider and his gang have been shakin' their collective booties in front of college kids at frat parties and local haunts for years. Now, Bob has some kinder, gentler projects, like his Lonelyland CD, which is a stark contrast to the funky, nasty lyric-singing personna he has with The Scabs. Nevertheless, a Scabs show is always fun, and there are always surprises. In the middle of all the funk, Bob threw in covers of Nirvana's "Smells Like Teen Spirit," Metallica's "Enter Sandman" and the Violent Femmes "Blister in the Sun," thus reinforcing the fact that this man (and his band) can do it all.
Of course, there were the songs from the new Scabs CD Destroyer, like "Pay at the Pump" and my personal favorite, "HEB," and old Scabs favorites like "Tarantula" and the sexy "Bullets." Maybe Bob's heart isn't into the Scabs stuff like it was in his pre-Bullock days (Sandra's his girlfriend), but it is still fun to watch him doing his sexy little dances and jumping around onstage. Even though his lyrics are questionable, I have never felt uncomfortable with them in the slightest, because you can just tell by the look in his eyes that he is having fun making fun of himself.
The crowd at Stubbs was a bit sparse, but it consisted of the usual young guys and gals ready to party. The Scabs don't often play at Stubbs, but it was a nice change from the steamy setting when the band packs Antone's on Fifth.
Any way you can see Bob Schneider is worth seeing. He does a weekly Monday gig at Saxon Pub with his Lonelyland crew to a packed house and shows up at various venues around town in various personnas.
on that note....
Band Links